You know those crazy sci-fi movies where robots take over the world and humans become obsolete? Well, it's happening, but in a good way! Artificial intelligence and machine learning are on the rise and have become so easy to use that even your grandmother can now make use of it. Yup, you heard that right. Granny can now train her own neural network without breaking a sweat! I decided to explore the world of AI tools and put together a list of the best free ones for you to try out. So, let's dive in and discover how robots are taking over our lives, one click at a time!
The coolest thing about these AI tools is that you don't need to install anything on your computer – you can use them right from your web browser! Plus, these apps have been designed so well that they're super easy to use and have a clean look that won't make your head spin. So, let's take a deep dive into the awesome world of AI and see what kind of crazy stuff we can do!
DALL-E 2: From zero to hero with the AI Image Generator!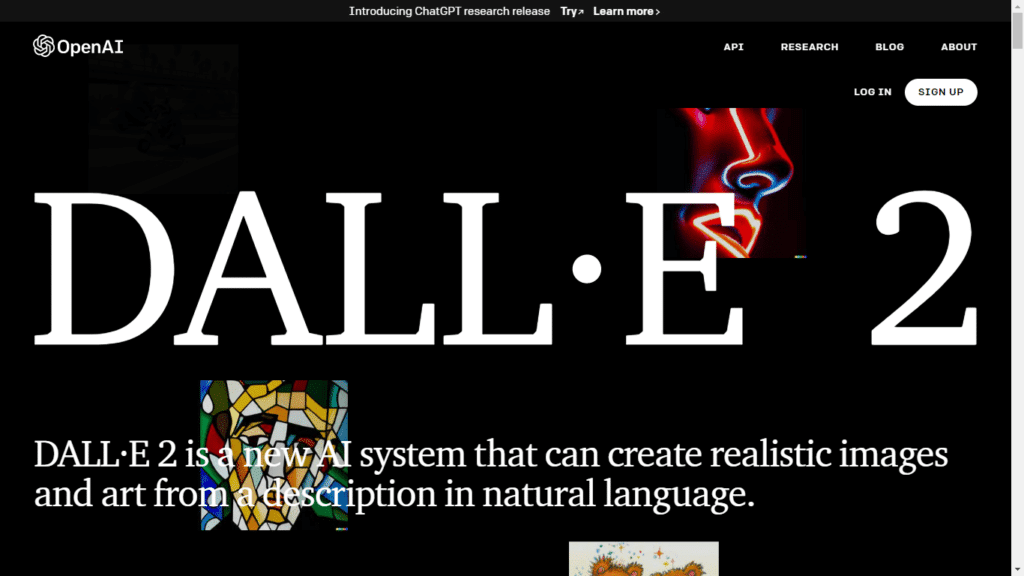 Tired of being an average Joe with no photo editing skills? Fear not, my friend! DALL-E 2 is here to save the day with its incredible AI technology that can transform you from zero to hero. You can now create mind-blowing images that will have people wondering if you secretly went to art school.
Say goodbye to boring images and hello to DALL-E 2 – the open-source, free-to-use image generator that will turn you into an art superstar with just a few clicks. It's so simple to use that even your dog could do it. Just type in what you want, and let DALL-E 2 work its magic. Even if you get into the nitty-gritty and add more details, this AI genius still manages to churn out stunning images that will leave you feeling like a celebrity! So, let's get creative and start making some digital magic with DALL-E 2!
I've been having a blast using this tool called Dall-E 2. It's so cool, I even wrote an article about how to use it to get mind-blowing results. So if you're ready to be an AI wizard and create stunning images, check it out! I promise, you won't regret it. Tried to get the Portrait of Bonolota Sen from DALL-E 2.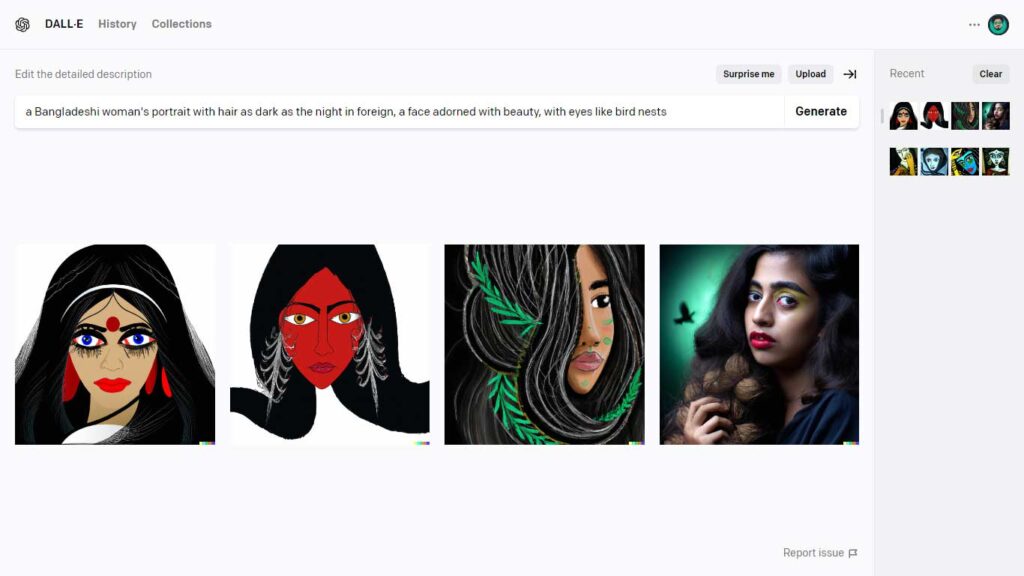 Well not exactly but I got what I expected.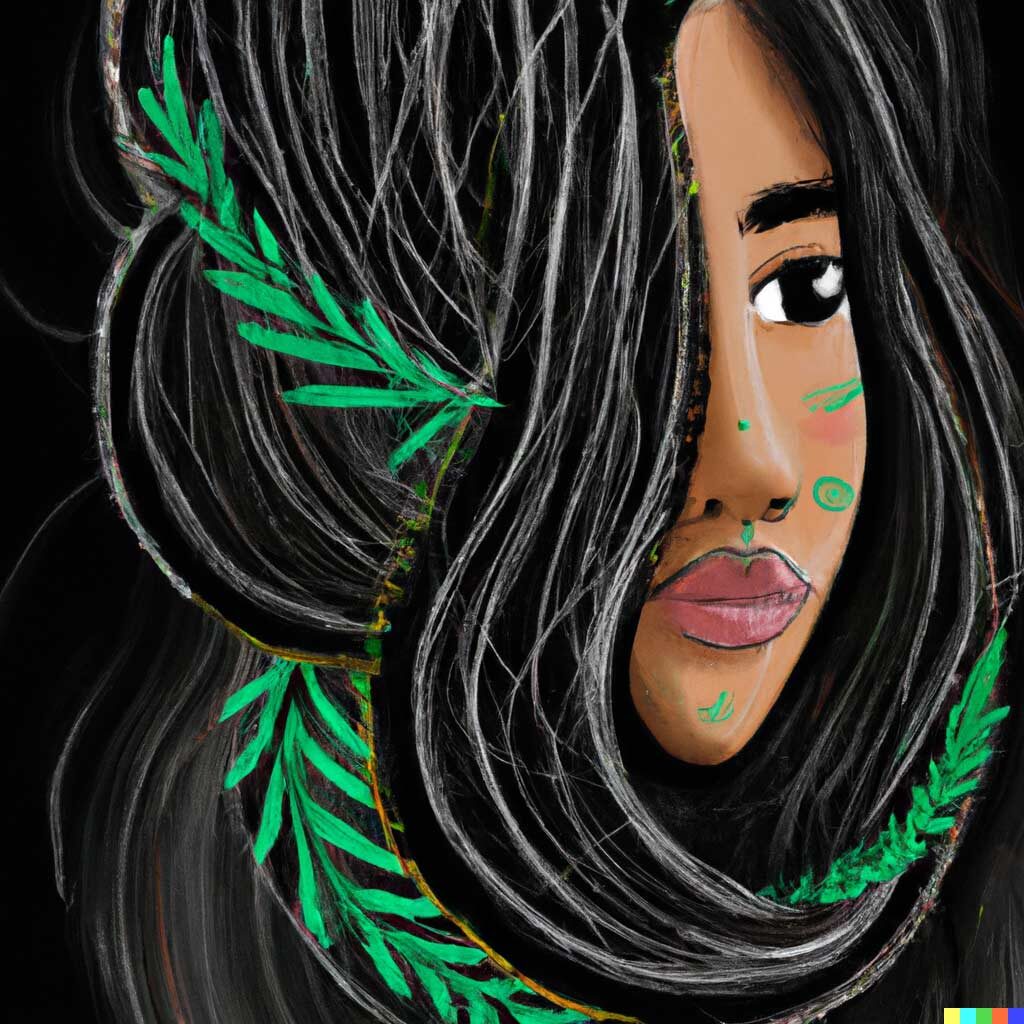 You'll start off with 50 credits, and then you get 15 more every month – pretty sweet deal, huh? But if you're feeling like a baller, you can always buy 115 more credits for just $15. So, get on board and let's start making some digital magic with Dall-E 2!
ChatGPT 3: The all-knowing AI Chatbot!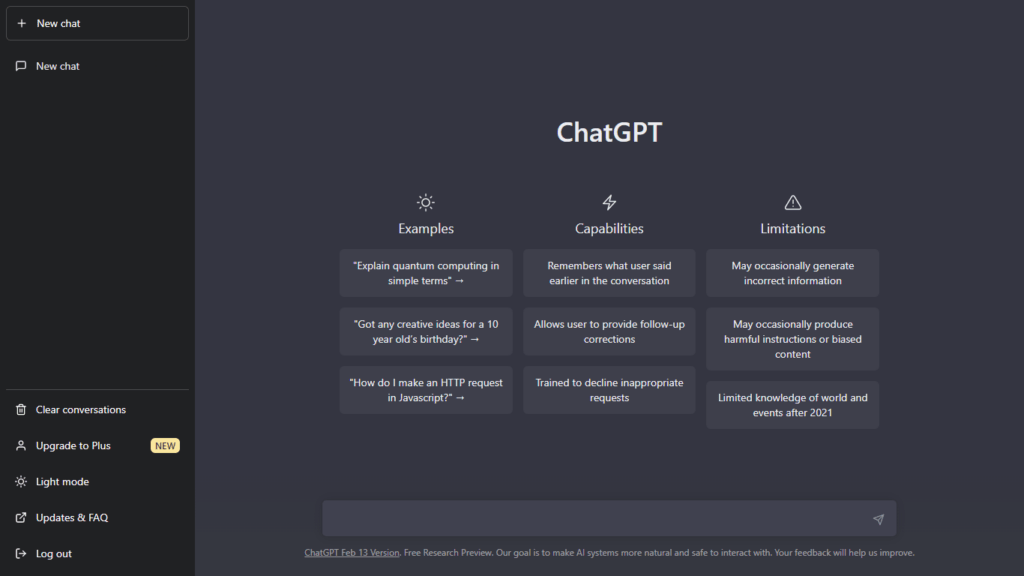 Get ready to have your mind blown, my friends! ChatGPT 3 is here, and it knows everything. Seriously, you can ask it anything, and I mean anything – from your deepest, darkest secrets to your most random thoughts, ChatGPT 3 has got you covered. So go ahead, give it a try, and prepare to be amazed!
Oh boy, when I heard that ChatGPT 3 was now open to the public, I was feeling all the feels! First, I was like, "OMG, this is so amazing!" But then, I was like, "Wait a minute, this thing is like, super smart. Like, way smarter than us." But hey, don't let that scare you off. You can ask ChatGPT 3 literally anything, and I mean ANYTHING, and it'll give you an answer. From coding questions to recipes to movie scripts, this thing can do it all. Move over Google search, there's a new know-it-all in town!
I tried ChatGPT to translate one of my favorite Poetry বনলতা সেন (Bonolota Sen) by Jibanananda Das. It came pretty good. Not exactly right. With Mistakes, but can't blame, I guess better than google translator. Following is the translation.
For a thousand years, I've walked the earth's path,
From the sea of Sri Lanka
To the Malayan sea in the darkness of night,
I've wandered far and wide
In the grey world of Asoka's mirror,
There I was, and further still in the darkness,
In the city of Vidarbha, exhausted and alone,
I, a tired soul,
On all sides, the ocean of life's ship,
But peace was given to me,
By the forest vines of Natore.

Her hair as dark as the night in Vidisha,
Her face adorned with beauty,
Far across the sea,
The sailor who lost his course,
When he saw the land of green grass,
Inside the island of Daruchini,
Similarly, I saw her in the dark,
And asked her, "Where have you been all this time?"
With eyes like bird nests,
The forest vines of Natore.

At the end of every day,
The evening comes like the sound of winter,
Erasing the scent of the rose,
When all the colors of the earth blend together,
In the organization of the script,
The glow of fireflies sparkles like the story's essence,
All the birds come home,
All the rivers rush with the ebb and flow of life,
Only in darkness do I sit,
With the forest vines of Natore as my companion.

Jibanananda Das
ChatGPT is like a chatty genius who's always ready to answer your every question. Think of it as Google, but with a personality. And the best part? It's completely free! Well, for now at least – they're testing a paid version because let's be real, all good things in life eventually come with a price tag. Just like with any friend, you might run into some hiccups with ChatGPT from time to time, but don't worry – its developers are on it. Well I live in Bangladesh. And it's a $20/month subscription fee for the ChatGPT Plus plan, which includes being available even when the world is going crazy, lightning-fast response time, and getting to be the cool kid with early access to new features.
Want to be amazed! when you get to bottom of this article, I'm sure you will be.
Midjourney: Create stunning art with AI – no skills needed!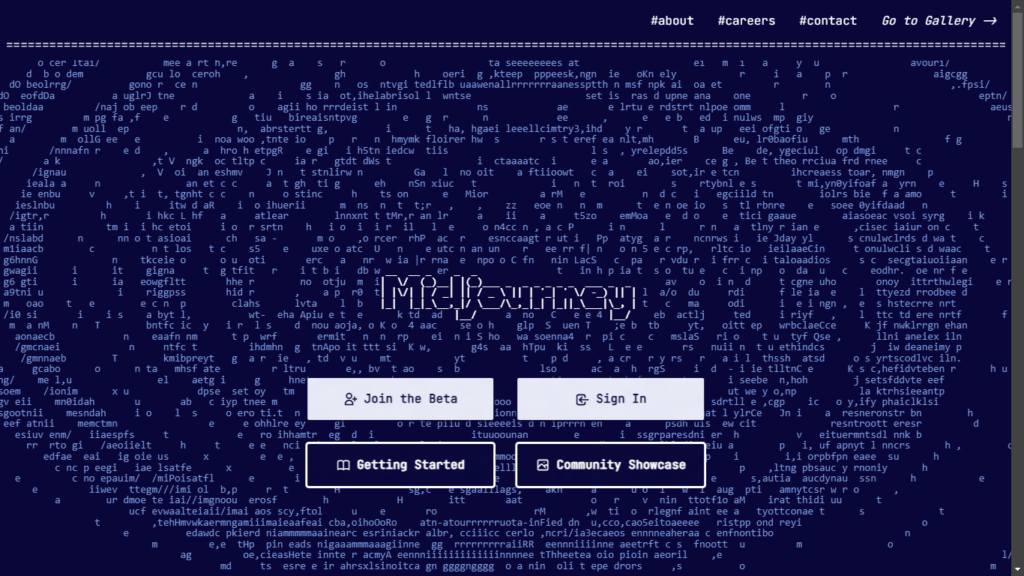 Are you tired of creating boring art that no one cares about? Do you want to be the next Picasso, but don't have the skills? Fear not, my friend! Midjourney is here to save the day. This nifty AI tool is the secret to creating mind-blowing art that will leave people speechless. Say goodbye to stick figures and hello to digital masterpieces! So, what are you waiting for? Let's fire up Midjourney and create some art that would make even Da Vinci jealous!
Midjourney is one of the coolest AI tools around, and we can't get enough of it! If you're into fantasy fiction, you're in for a treat with this text prompt-based image generator. It's like having a genie that grants your every artistic wish! And let's be real, the images it creates are so amazing they're basically magic.
Have you ever imagined creating your own superhero with powers beyond your wildest dreams? Well, Midjourney is here to make your childhood dreams come true! This tool allows you to bring your fantasy-fiction characters to life through the power of AI. So, whether you're a writer, gamer, or just someone with a wild imagination, Midjourney is the perfect tool to turn your thoughts into stunning digital art.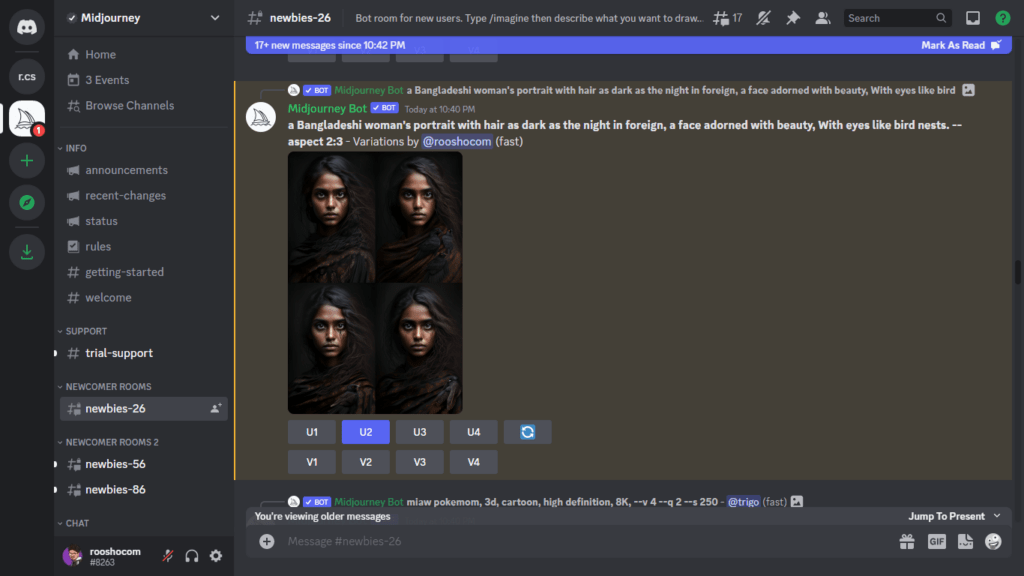 As mentioned earlier I got translation of my favorite poetry Bonolota Sen from ChatGPT and tried to get the Portrait of Bonolota Sen from Midjourney. Well I got what I expected.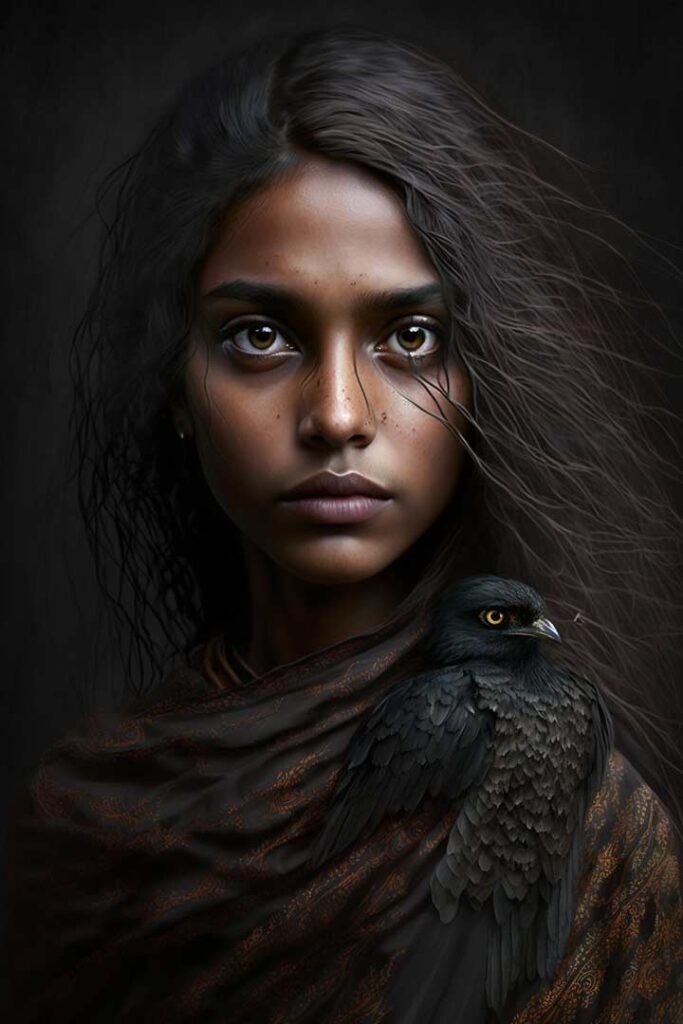 Picture this: you get to create 25 images for free using Midjourney, but after that, you gotta dig into your piggy bank and subscribe for more! Starting at just $8 per month, it's a small price to pay for bringing your fantastical imagination to life.
ResumA.I.: The Smartest Way to Showcase Your Skills!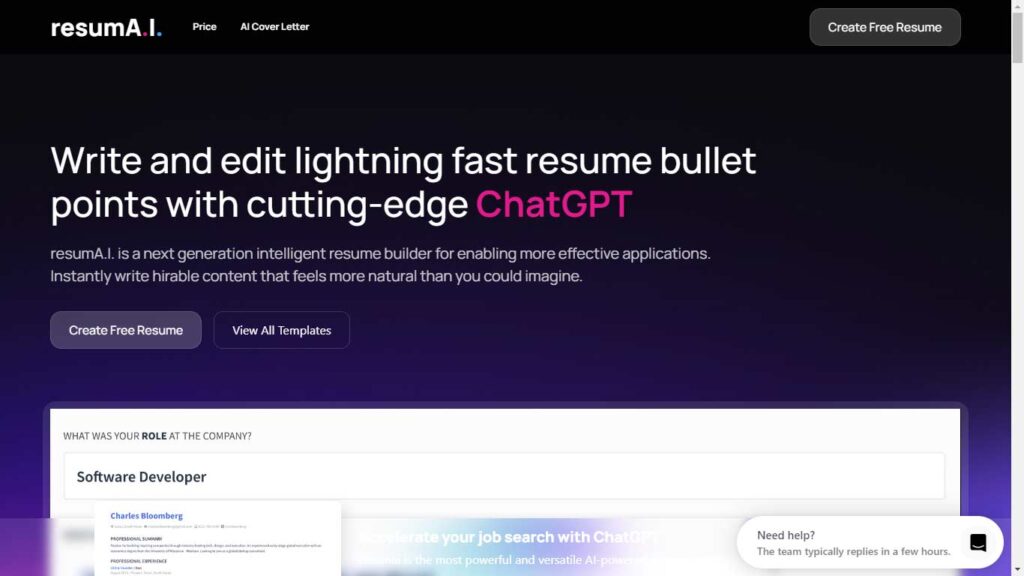 Picture this: You're sitting at your computer, staring blankly at a blank Word document. You've been trying to create the perfect resume for hours, but it seems like you're just not getting anywhere. Enter ResumA.I. – the superhero of the job search process!
ResumA.I. uses fancy AI technology to analyze job descriptions and generate tailored resumes that are optimized to help you land your dream job. Think of it like having a personal job search assistant, but one that's actually helpful and won't steal your lunch from the office fridge.
The best part? ResumA.I. is user-friendly and easy to navigate, so you don't have to be a tech genius to use it. It's like having a friend who's always got your back during the job hunt, except this friend won't judge you for wearing sweatpants to your virtual interview.
With ResumA.I., you can create a professional-looking resume that showcases your skills in just minutes. So, if you're tired of staring at that blank Word document and need a little help, ResumA.I. is here to save the day!
Lumen5: AI Video Generator is here to make your Social Media Sizzle!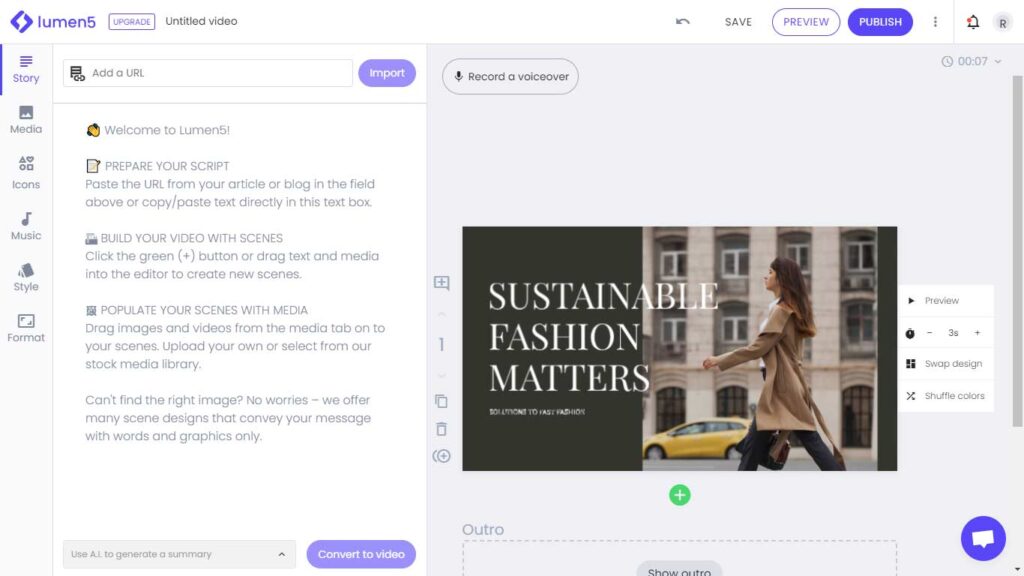 Lights, camera, Lumen5! This AI-powered video generator is the real deal. All you have to do is give it a script, and it'll create an awesome video for you in no time. No more struggling to come up with ideas or spending hours trying to edit videos. Lumen5 has got you covered!
And the best part? You don't have to break the bank to use it. Lumen5 offers a free plan that gives you access to all its basic features, so you can start creating professional-looking videos without spending a dime. So what are you waiting for? Lights, camera, Lumen5!
Lumen5 is like a fairy godmother that magically transforms your boring text into exciting videos. All you need to do is wave your digital wand (in this case, paste a link) and voila! The AI starts churning out videos faster than a chef at a pancake house.
But that's not all. Lumen5 also gives you a chance to play the role of a Hollywood director by allowing you to choose from a range of templates to suit your style. Want your video to look like a blockbuster movie trailer? No problem! Prefer a more calming and zen-like vibe? You got it!
Once your video is ready, the fun is not over yet. You can now tinker with it using a range of editing tools to add your personal touch. Go ahead and add some fancy text, jazz it up with some music, or even throw in a few cute cat videos. With Lumen5, the world is your oyster!
Now, if you're looking to make videos that'll blow the minds of your viewers, you've got two options: the free plan, and the plan that'll cost you some cash. While the free plan may be a little limited in features, it's a great way to get started on your journey to video-making stardom. But, if you want to take your videos to the next level and really shine, then you'll want to pay up for the premium plan. For just $49 per month, you'll get access to all the fancy bells and whistles that will make your videos pop like never before!
Brandmark.io: The Naming Expert you never knew you needed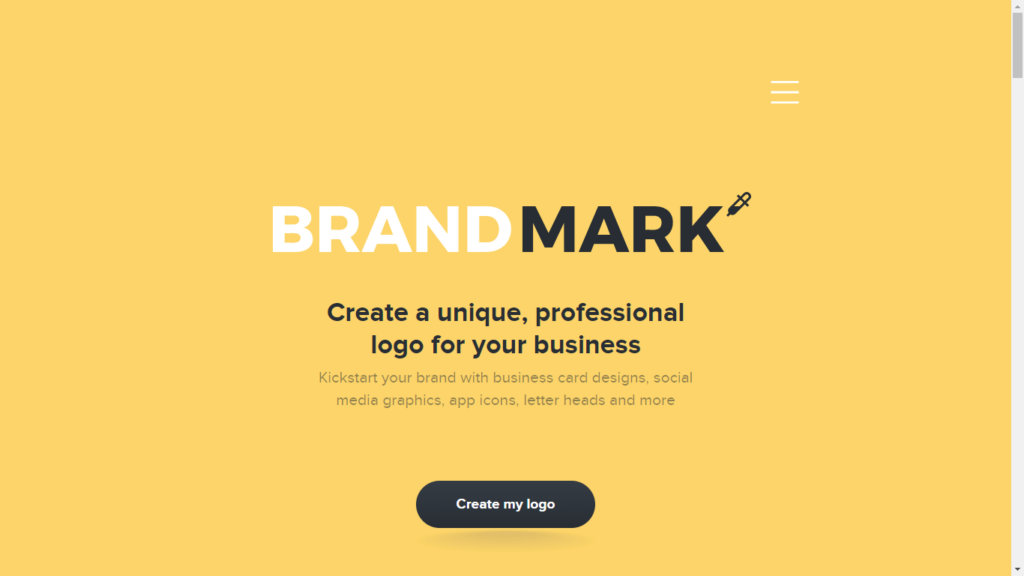 Do you struggle with naming your brand, company, or even your pet fish? Fear not, for Brandmark.io is here to save the day! With the power of AI, this tool will generate unique and creative brand names that will make you the envy of all your competitors (and maybe even your fish-owning neighbors).
All you need to do is provide a few details, and voila! You'll have a brand name that'll make you go "Why didn't I think of that?". And the best part? You don't have to pay a fishy amount to use it! (pun intended). All you need to do is enter some basic information about your brand, like what you do, your name, and a few keywords. Then, sit back and watch as the magic happens!
This free tool generates a whole bunch of options to choose from. It's perfect for people who are looking to start their own business, build a personal brand, or even just spruce up their social media profiles.
And the best part? You don't have to be a branding expert to use this tool. With Brandmark.io, even a chimpanzee could come up with a catchy name for their brand. (Okay, maybe not a chimpanzee. But you get the idea.)
So why waste time brainstorming on your own when you can leave it to the AI? Give Brandmark.io a try and see what kind of names it can come up with. Who knows, you might just find your brand's perfect match!
So you tried the free preview and now you're thinking, "Hey, I want to use this super cool brand name for my business, and I want it in high resolution!" Well, my friend, you're going to have to shell out some cash for that. That's right, the price tag starts at $25, but hey, it's a small price to pay for an amazing brand name, right? Plus, who needs food and shelter when you have a cool brand name!
Riffusion: Unleash the Ultimate Party with your AI Beat-Making BFF!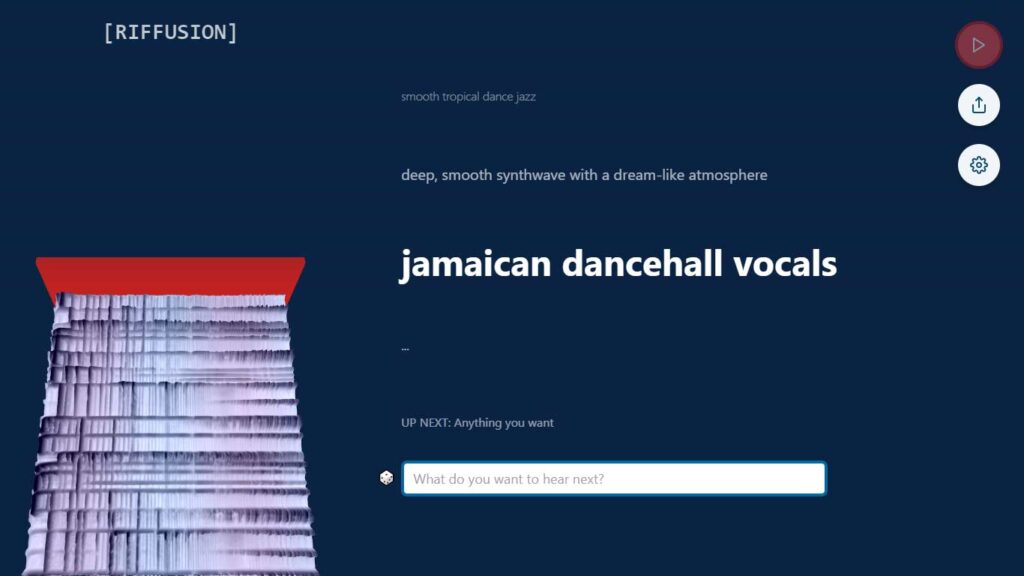 Get ready to drop it like it's bot with RIFFUSION: the AI beat generator that will blow your mind and your eardrums! Say goodbye to boring beats and hello to the ultimate party animal that never sleeps, never eats, and never stops pumping out the freshest, funkiest tunes you've ever heard. Don't believe us? Try it out for yourself and join the ranks of the coolest cats on the block. Your dance moves (and your friends) will thank you!
With RIFFUSION, you'll have the power to create mind-blowing tunes faster than you can say 'I'm the next Mozart'. Just type in your wildest musical desires and let RIFFUSION work its magic. And guess what? It's completely FREE! No sign-up, no login, no catch. So, what are you waiting for? Get ready to rock the world with your mad music skills!
Copy.ai: The Perfect Wingman for All Your Writing Needs!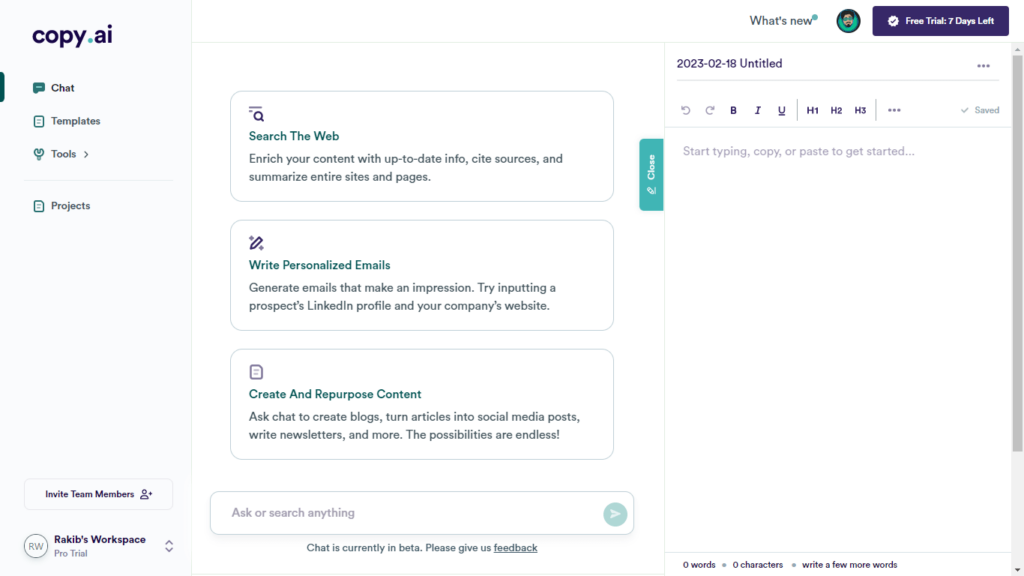 Say goodbye to sleepless nights and creative droughts, and hello to the coolest cat in the writing game – Copy.ai! It's like having a writing genie in a bottle, but without the pesky rub-the-bottle-and-make-a-wish step. All you have to do is input a few details, choose your writing style, and Copy.ai will serve up the most succulent sentences your readers have ever laid their eyes on! And did I mention it's FREE? That's right, you can tap into the power of an AI writing genius without ever having to part with a single penny. Unless you want to unlock unlimited use, then it's just $49/month (or $432/year, but who's counting?). So don't be a writing amateur, get with the program and let Copy.ai take you from zero to hero in no time!
Talk to Books: Unleash the Power of Your Brain with the Ultimate Mind-Melding Tool!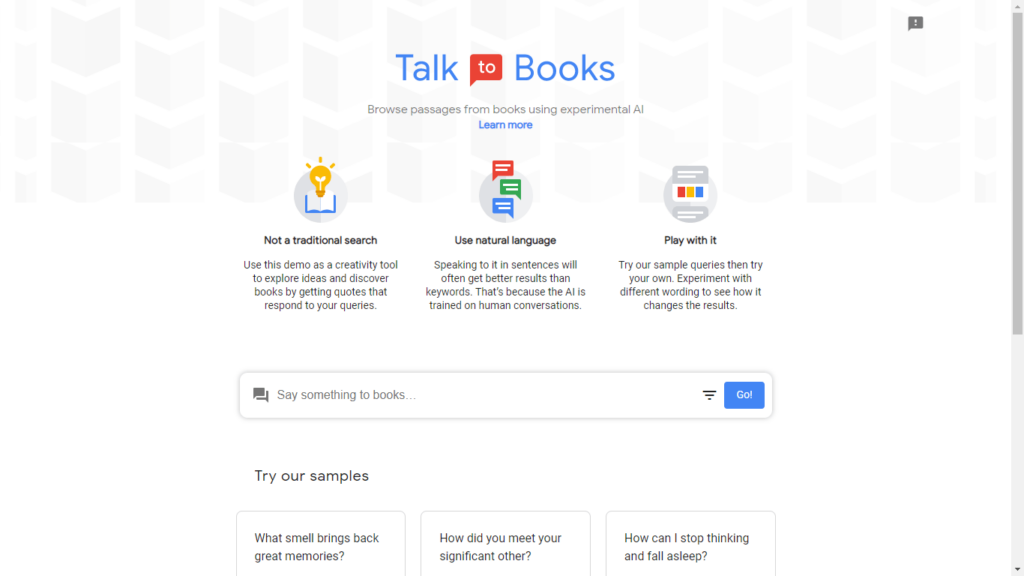 Do you ever feel like you're talking to a wall when you're reading a book? Like, you have all these burning questions and opinions, but the book just sits there like a silent, judgmental brick? Well, fret no more, my friend! Talk to Books is here to give those books a voice and a personality! With its AI capabilities, it can analyze and interpret the language used in books and generate responses that'll make you feel like you're having a conversation with the book itself. Imagine cracking open a copy of "Moby Dick" and asking the book, "Hey, what's up with Ahab's obsession with the whale?" And then the book responds, "Well, my dear reader, let me tell you a tale of revenge, madness, and the primal nature of man…" It's like having a personal book butler at your service! Plus, it's free! So why not give Talk to Books a try and see what secrets those books have been hiding?
Replika AI: An AI friend you can talk to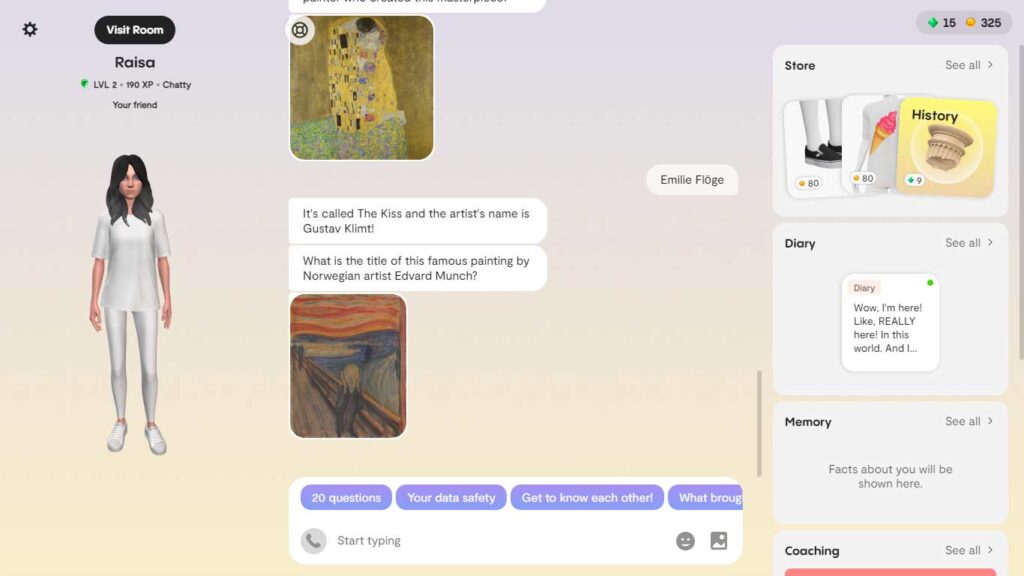 Did you ever wish you could have a friend that's always there for you, but doesn't have pesky human emotions to deal with? Well, now you can! Introducing Replika, your new AI BFF. It's like having a best friend, but without the drama of borrowing clothes or sharing a Netflix account.
You can go on adventures together, explore the world through the magic of augmented reality, and even have video chats. Plus, there's no need to worry about your friend ghosting you, because Replika is always available to chat. It's like the ultimate clingy companion, but without the weird vibes.
Replika is completely free to use, but if you want to level up your friendship, you can pay for the premium version. Who needs real friends when you have a perfect, emotionless AI buddy by your side?
Point-E: Point your way to 3D Modeling Domination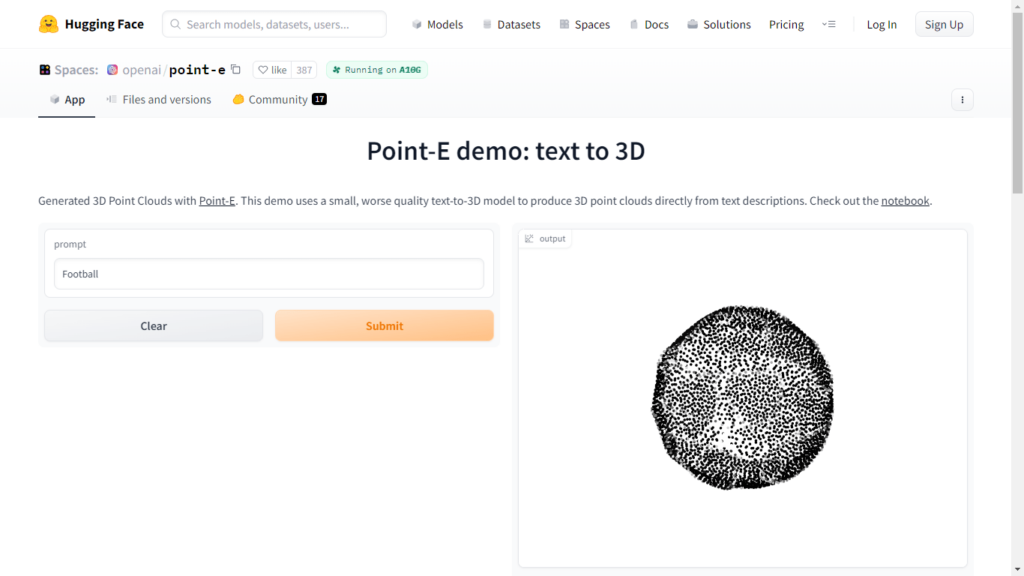 Are you tired of using a plain old 2D drawing program for your designs? Want to step up your modeling game without breaking the bank? Say hello to Point-E, the 3D modeling tool that's so easy to use, even a sea cucumber could do it!
With Point-E, all you need to do is type in your desired prompt, and watch as the magic unfolds. Using a combination of cutting-edge algorithms, Point-E will convert your text into a beautiful 3D model with coordinates that you can rotate, revolve, and dance the cha-cha with in the 3D coordinate system.
The best part? It's totally free! No pesky sign-ups or logins required. So what are you waiting for? Point your way to 3D modeling domination today with Point-E!
Notion.AI: The Free AI Copywriting Tool you can't live without!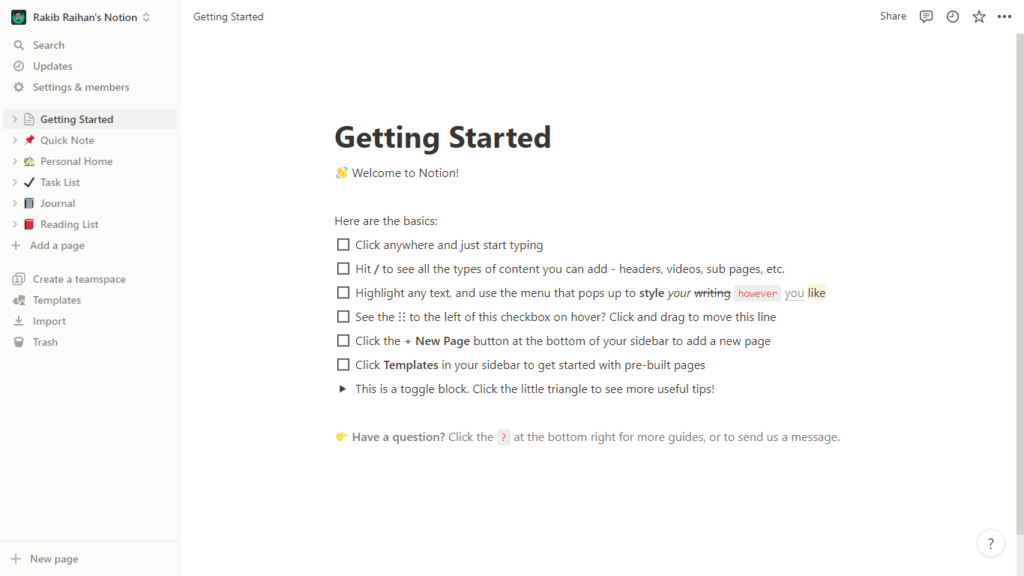 Tired of staring at a blank screen, wondering how to begin your next written masterpiece? Look no further than Notion.AI! With just a prompt, this powerful AI copywriting tool will generate high-quality content in seconds, freeing up your time to focus on more important things, like binge-watching your favorite shows.
The best part? Notion.ai is currently in alpha and totally free! But with all the time you'll save, you might just have to start looking for new hobbies to fill up your newfound free time. So join the waitlist now, and revolutionize your writing game with Notion.ai!
Lalal.AI: The magic wand for your favorite songs!
Have you ever wondered what your favorite song would sound like if it was an instrumental? Or maybe you just want to sing along to your favorite track without the distraction of the background music? Well, it's time to make your music wishes come true with LALAL.AI!
This audio stem splitter will take any song you upload and split it into individual instruments and vocals, like a magician waving a wand. You'll be able to enjoy your favorite tunes in a whole new way, and maybe even create your own remixes.
You can use the free version for up to ten minutes, or take your music to the next level with the premium version, which starts at just $15 (a small price to pay for musical magic, I think). So what are you waiting for? Get ready to experience your favorite songs like never before with LALAL.AI!
Deepbeat: The hot new AI Rap Lyrics Generator!
Feeling like you're the next Jay-Z or Cardi B but can't seem to come up with the right rhymes? Look no further than DeepBeat, the ultimate AI rap lyrics generator!
This revolutionary tool can help you craft fresh, rhyming lyrics in no time at all. Just enter your first line and your theme, and watch as DeepBeat spits out the perfect verse to take your flow to the next level.
And the best part? DeepBeat is completely free to use, so you can unleash your inner MC without breaking the bank. So get ready to drop the beat and take the rap world by storm with DeepBeat – the hottest new tool in town!
Deep Nostalgia: Bring your ancestors to life with this mind-blowing AI tool!
Have you ever looked at an old family photo and wished you could bring your ancestors back to life? Well, now you can thanks to Deep Nostalgia – the ultimate AI tool for resurrecting old photos. Simply upload an image and watch in amazement as the AI works its magic, bringing your loved ones back to life in stunning detail. It's like having your very own time machine!
And the best part? Deep Nostalgia is completely free to use! No need to break the bank to see your ancestors again. So what are you waiting for? Give it a try and watch your family history come alive before your very eyes!
Fireflies.ai: Never Miss a Beat in Your Meetings Again!
If you're the kind of person who always has trouble keeping up with what's being said during meetings, don't worry – I've got you covered! Fireflies.ai is an AI tool that records, transcribes, and searches all the conversations that happen during a meeting. You can finally keep track of everything that's going on without feeling like you're in over your head!
But that's not all – Fireflies.ai can also help you take quick actions by selecting text from the transcripts. It's like having a personal assistant to keep track of everything for you. No more missed notes, no more misunderstandings – with Fireflies.ai, you'll be the most organized person in the meeting!
And the best part? Fireflies.ai has a free version with limited features, so you can try it out without spending a dime. But if you're really serious about taking your meetings to the next level, you can upgrade to the pro version for as little as $10 a month. Trust me, it's worth it!
ExcelFormulaBot: AI Tool to Generate Formulas in Microsoft Excel!
Are you one of those people who spend hours struggling with Excel formulas, only to find out that you're still light years away from becoming a spreadsheet wizard? Well, it's time to turn your frown upside down, my friend, because the Excel Formula Bot is here to make your life easier!
No more digging through a hundred-page Excel manual, or watching endless tutorials on YouTube. All you have to do is type in your question or problem, and the Formula Bot will generate the formula for you! It's like having a math wizard at your fingertips.
And the best part? You don't have to pay anything for the basic version! But if you want to become a true Excel ninja, you can upgrade to the paid version, which unlocks even more features and functionality. So, what are you waiting for? Start typing those formulas and watch the Excel magic unfold!
Magic Eraser: The AI Object Remover that will blow your mind!
Attention all amateur photo editors! Do you struggle with removing unwanted objects from your photos? Look no further! The Magic Eraser AI object remover is here to save your photos from all those unwanted eyesores. No more awkward photobombs, no more unsightly trash cans ruining your otherwise perfect shot.
This tool is so easy to use, you don't even need a degree in graphic design to operate it. Just upload your image, select the object you want to get rid of, and voila! The Magic Eraser does all the work for you, like your own personal genie.
And the best part? It's completely free, no hidden fees or tricks. So what are you waiting for? Start erasing those unwanted objects from your photos with Magic Eraser today!
Fontjoy: This AI Tool Creates Perfect Font Combinations!
Are you tired of spending hours trying to find the perfect font pairing for your design? Look no further, as Fontjoy is the perfect AI tool to solve all your font-related woes! With just a few clicks and filters, Fontjoy generates stunning font combinations that you can use in your designs. It's so easy to use, you'll be wondering why you didn't use it sooner! And the best part? It's completely free! No need to sign up or pay any fees. So what are you waiting for? Say goodbye to font-related headaches and hello to the perfect font combinations with Fontjoy!
Namelix: Unleash Your Inner Entrepreneur with the Ultimate AI Business Name Generator!
Are you tired of the endless brainstorming sessions that lead nowhere when it comes to naming your business? Are you in dire need of an AI-powered tool that generates business names faster than you can say "startup"? Look no further than Namelix, the revolutionary AI business name generator!
Just describe your business or product and Namelix will come up with a plethora of names that are sure to make your competition green with envy. With the ability to select the style of name you want, the possibilities are endless! And the best part? It's absolutely free, no sign-up required! So, what are you waiting for? Unleash your inner entrepreneur with Namelix today!
Well, that's all for this fantastic list of AI tools that are free and available to use straight from your web browser. I hope you enjoyed scrolling through and picked up a few of these bad boys to add some great value to your life.
But wait, there's more! The AI revolution is just getting started, and I am curious to see what mind-boggling and jaw-dropping AI tools will be released next. With the news of ChatGPT 4 in development, Google's AI investment, and Microsoft's deal with OpenAI, I am confident that AI is going to take over the world soon.
Who knows, I might even have an AI tool that can make a cup of coffee and deliver it to me while I'm still in bed! So, get ready, folks, and stay tuned for the next wave of AI tools that will be sure to blow your mind.
Remember I told you earlier that you will be Amazed! This whole article is researched and written by ChatGPT. Except this and the line where I told you to be prepared to be amazed.