What is Oracle Always Free Cloud Services?
An Oracle Always Free Cloud account provides free access to certain Oracle Cloud services for an unlimited period of time. The free services include a limited number of CPU cores, GB of RAM, and GB of storage. To use the free services, you must create an account with Oracle and provide a credit card. The credit card will not be charged unless you exceed the free limits.
P.S. If you live in Bangladesh, you will need a Dual Currency Supported Debit Card or Credit Card. And that card must be endorsed to your Valid Passport. Prepaid Cards such as Mastercard Aqua Prepaid or Visa Lifestyle Prepaid Card from EBL or UCB International Prepaid Card, Shadhin MasterCard, and by Bank Asia or any Virtual Prepaid Card are not accepted and have already been tested.
Benefits of an Oracle Always Free Cloud Services
An Oracle Always Free Cloud Services provides many benefits for users, including 4 CPU cores, 24 GB of RAM, and 200 GB of storage. The main benefit of using an Oracle Always Free Cloud Services is that it allows users to create and manage multiple virtual machines (VMs) without having to worry about paying for the resources they use. In addition, an Oracle Always Free Cloud Services gives users access to a variety of features and tools that can help them manage their VMs more effectively. Finally, an Oracle Always Free Cloud Services provides users with a higher level of security than other cloud providers.
Have you been feeling the strain of running your WordPress website lately? You know, that website that's been getting more popular than a Justin Bieber concert. With all that traffic, it's no wonder your website is slowing down, crashing more often, and leaving you feeling frustrated. Well, let me tell you, I have just the solution for you. Oracle's Always Free Cloud Services! That's right, Oracle is offering 4 CPU cores, 24 GB of RAM, and 200 GB of storage for free, for a lifetime. Can you believe it? With all those resources, your website will be running like a Ferrari on a race track. It'll be lightning fast, more responsive, and able to handle any amount of traffic you throw at it. And the best part is, you can focus on creating amazing content for your audience. You won't have to worry about the technicalities of running a website anymore. Oracle has got your back, providing you with the resources you need to keep your website running like a dream. So, imagine this, you'll be the king of the internet, ruling over your website with a fist of iron and a heart of gold. Your audience will be wowed by the speed and performance of your website, and you'll be able to bask in the glory of a job well done.
What are you getting with Oracle Always Free Cloud Services?
With Oracle's Always Free Cloud Services, you'll get access to the following resources:
Infrastructure
2 AMD based Compute VMs with 1/8 OCPU** and 1 GB memory each
Arm-based Ampere A1 cores and 24 GB of memory usable as 1 VM or up to 4 VMs with 3,000 OCPU hours and 18,000 GB hours per month
2 Block Volumes Storage, 200 GB total
10 GB Object Storage – Standard
10 GB Object Storage – Infrequent Access
10 GB Archive Storage
Resource Manager: managed Terraform
5 OCI Bastions
Databases
Your choice of Oracle Autonomous Transaction Processing, Autonomous Data Warehouse, Autonomous JSON Database, or APEX Application Development. Two databases total, each with 1 OCPU** and 20 GB storage.
NoSQL Database with 133 million reads per month, 133 million writes per month, 25 GB storage per table, up to 3 tables.
Step-by-Step Guide to Creating an Oracle Always Free Cloud Account
Observability and Management
Monitoring: 500 million ingestion datapoints, 1 billion retrieval datapoints
Application Performance Monitoring: 1000 tracing events per hour
Logging: 10 GB per month
Notifications: 1 million sent through https per month, 1000 sent through email per month
Service Connector Hub: 2 service connectors
Additional services
Flexible Load Balancer: 1 instance, 10 Mbps
Flexible Network Load Balancer
Outbound Data Transfer: 10 TB per month
Virtual Cloud Networks (VCN): Maximum of 2 VCNs, includes IPv4 and IPv6 support
VCN Flow Logs: Up to 10 GB per month shared across OCI Logging services
Site-to-Site VPN: 50 IPSec connections
Content Management Starter Edition: 5000 assets per month
Certificates: 5 Private CA and 150 private TLS certificates
Email Delivery: 100 emails sent per day
** 1 OCPU on x86 CPU Architecture (AMD and Intel) = 2 vCPUs; 1 OCPU on Arm CPU Architecture (Ampere) = 1 vCPU
Source: https://www.oracle.com/cloud/free/
How to Signup for Oracle Always Free Cloud Services?
Now that you know the benefits of Oracle Always Free Cloud Services, it's time to create your own! Follow the step by step guide below to get started.
Start with OCI Free Tier Website
To get started visit Oracle Cloud Infrastructure Free Tier Page. Click Start for Free. As a Bonus, you will also get a $300 equivalent of Free Tier for 30 Days. Always Free plus Free Tier. How cool is that!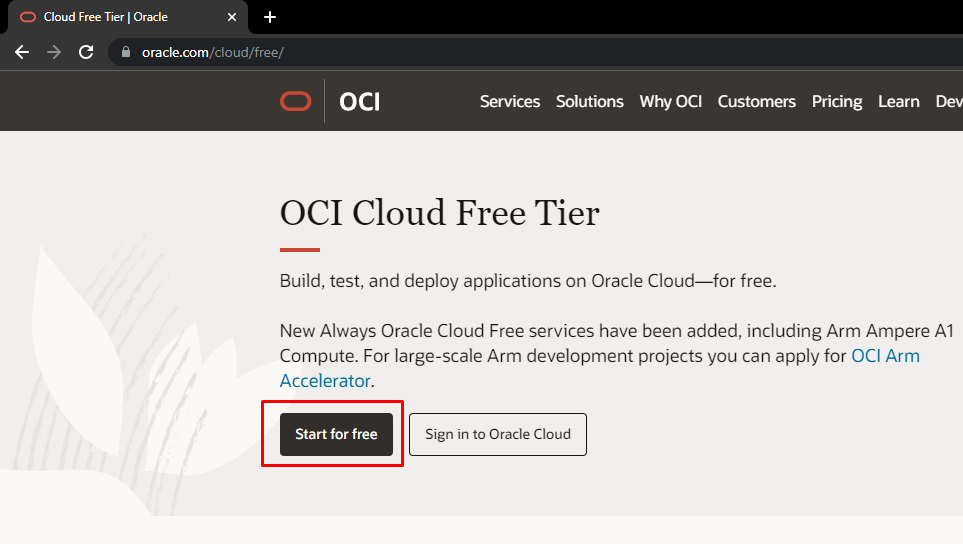 Verify Yourself
Get yourself verified by verifying your email address. Put your name and email address. You will be sent an email to verify yourself like following. Click on Verify Email to confirm the verification.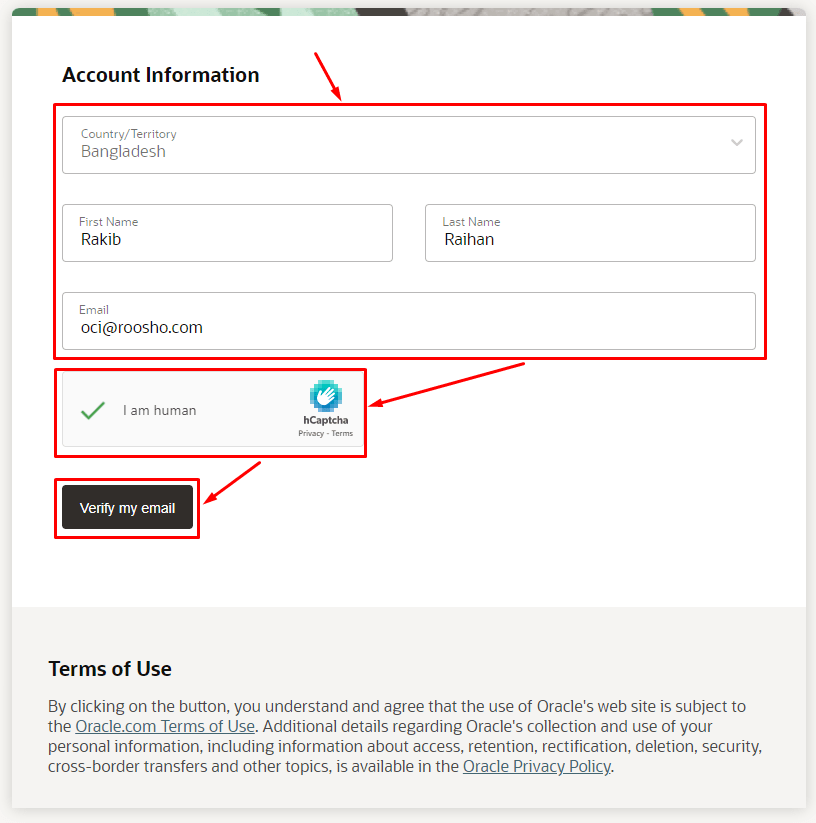 UPDATE

PS. In all the steps try to match information with you bank. Somehow I've got so many complains that, Oracle doesn't activate the Always Free Cloud Services if the User Information doesn't match with the information from your Bank.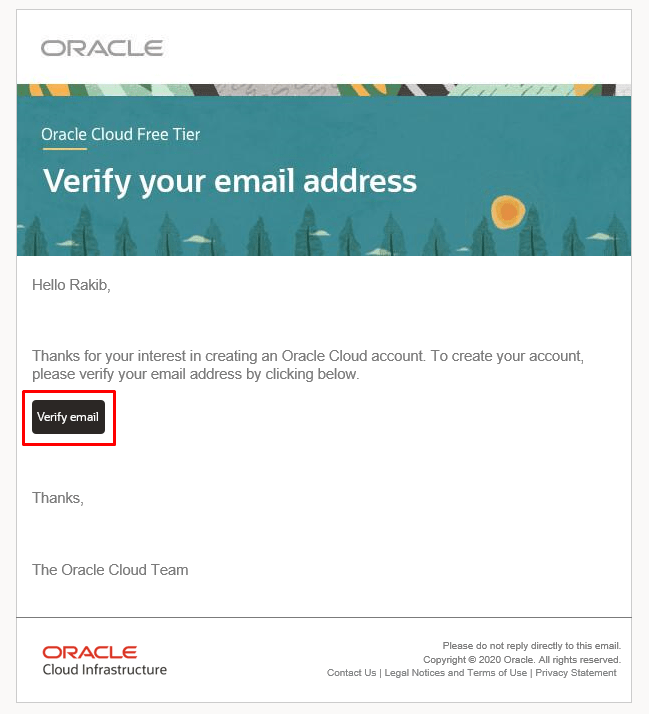 Fill up your Account Information
Fill up the Password Field with a Strong Password. As complex as possible. But don't forget the password.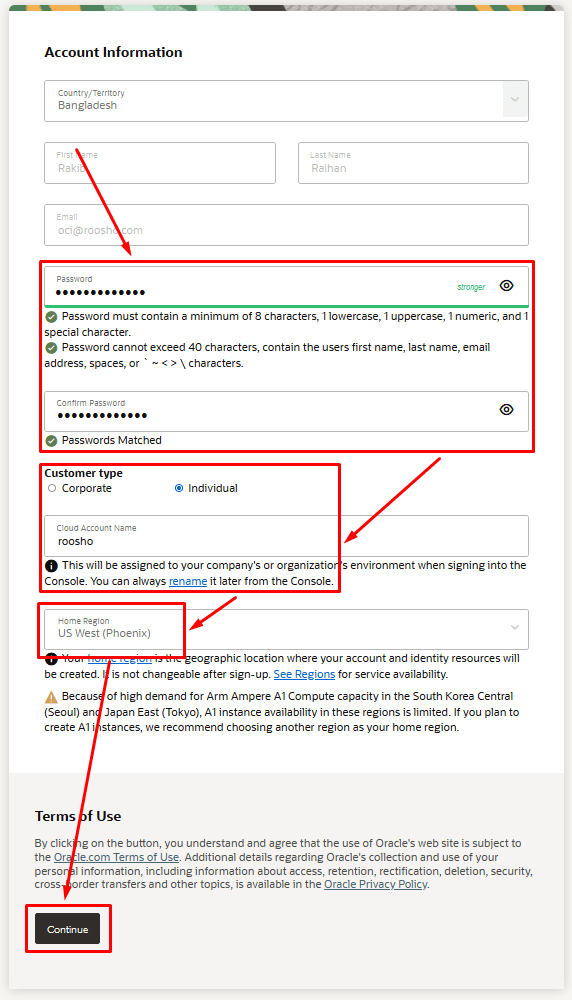 For Customer type, you can select either Corporate or Individual. I selected Individual, because I'll be experimenting a lot for myself. Then give your account a name as I gave roosho.
Then select the Home Region.
THIS IS WHERE THINGS GET A LITTLE TRICKY. SO, PAY ATTENTION.

Choosing your Home Region for Oracle's Always Free Cloud Services is like playing a high stakes game of poker. You must choose wisely and carefully, or you will end up losing big time.

If you're like me, a Jack of All Trades but a Master of None, and you live in Bangladesh or any other part of South Asia. You have a better understanding of the International Gateways (IGW) for your country as I do, and you think, "OH! If I take the nearest location from me, the latency will be low, and the performance and speed will be high. The FCP, LCP TBT (or whatever Acronyms you know of) Times will be low too." WRONG! That's like betting all your chips on a losing hand. Most of the regions on the list don't have enough free resources for Always Free Cloud Services. So, if their resources run out, you will be wasting your credit card/debit card for your mistake. Because, once you signup with a credit card, you can no longer signup for a new account with that card. And once you sign up with a credit card, you can't change your region, so you're stuck with your decision.

My suggestion? Choose wisely, like a wise old owl. I recommend selecting a US or UK location, like West US (Phoenix) for example. My last signup was on 31st January 2023 for one of my friends. The US and UK have the largest data centers in the world, and you're more likely to find free resources for Always Free Cloud Services. Just remember, you can't blame me if your selected location doesn't have resources for Always Free Services.

You can always make your latency low using free CDNs like Cloudflare. So, choose wisely, and let the good times roll!
Now click on Continue to proceed with the Address Information form.
Fill up your Address
Enter your Post Address and Phone number (preferably a mobile phone number where SMS for any verification can be sent.) and click Continue. Again try to match the Address with the information on your Bank Account details to avoid address verification complications.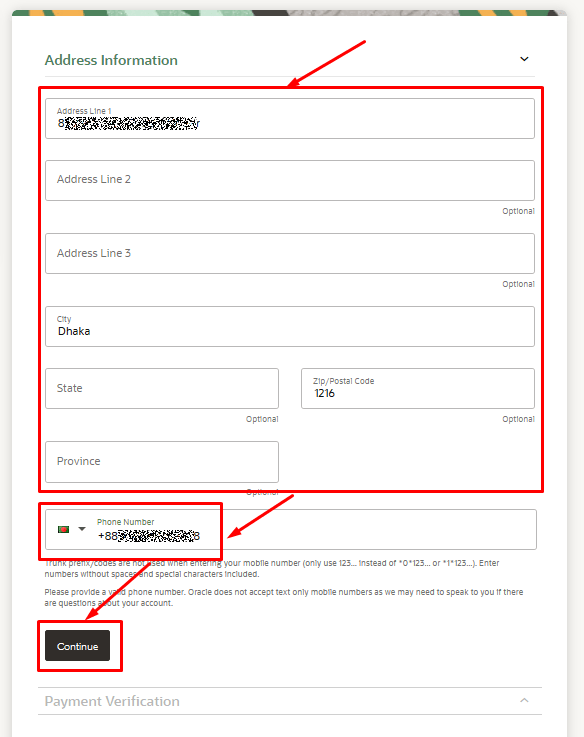 Add your Payment Method
Click on Add payment verification method to add your credit or debit card.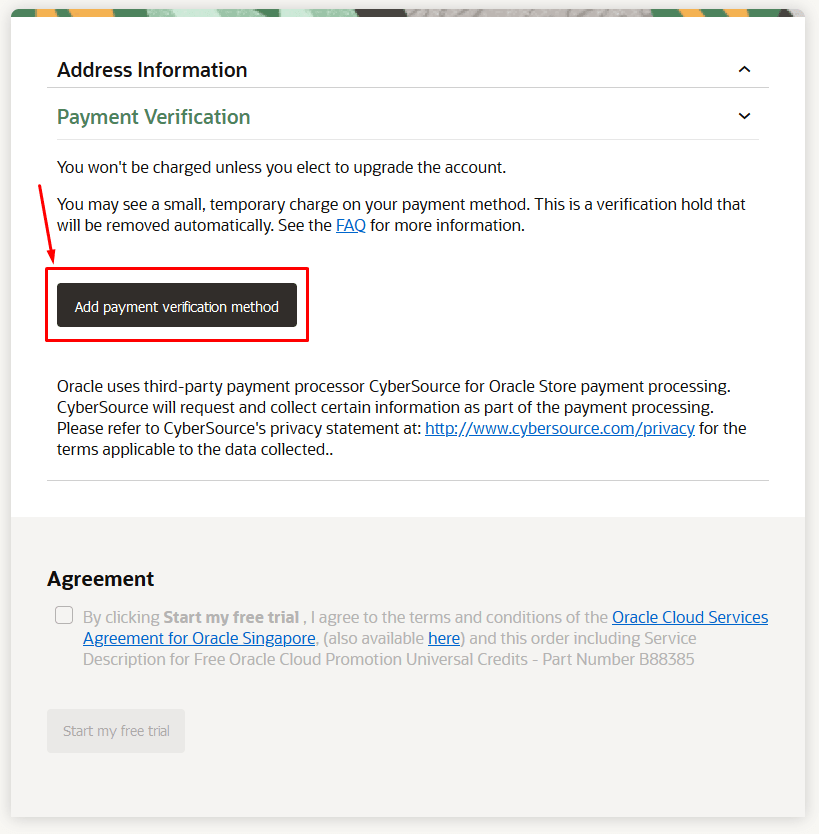 If you are in Bangladesh or any region where PayPal is not supported, you will only get the option to add Credit Card. Click on Credit Card Button to add your credit card.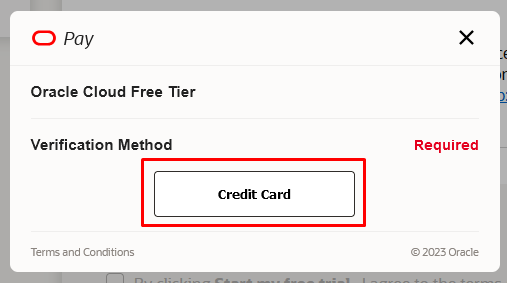 Enter your Credit Card of Debit Card Information here. To take advantage of Oracle's Always Free Cloud Services in Bangladesh, you need a Dual Currency supported Debit or Credit Card linked to a valid passport. Avoid using prepaid cards, as they won't work with the service.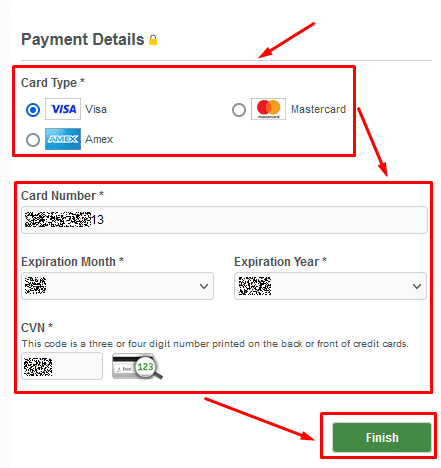 You will get the confirmation after successfully adding the Credit Card/Debit Card.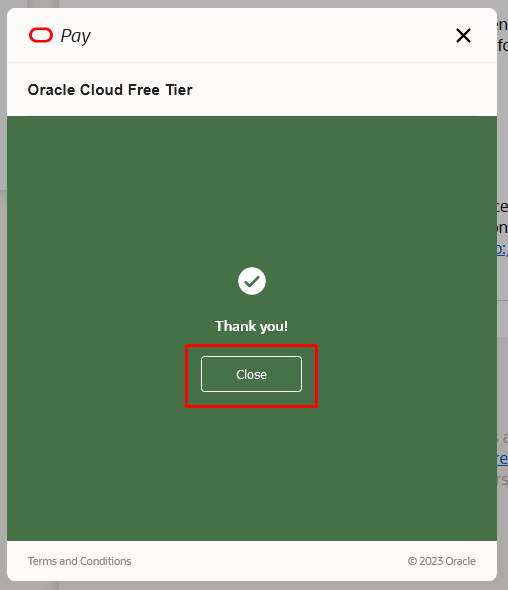 PS: You will be charged 1 USD, 1 GBP, 1 Euro or 1SGD or whatever is the transaction method Oracle chooses depending on the region you are paying from along with the local VAT, GST and other charges from your country. Once the card has been added they will refund you that amount except the charges by your country (As those have already gone to Government's Pocket)
Start your Always Free Cloud Services
Once you have completed the Payment Method Verification, select the checkbox to AGREE with the Terms and Conditions of Oracle Cloud Services Agreement and click on Start my free trial.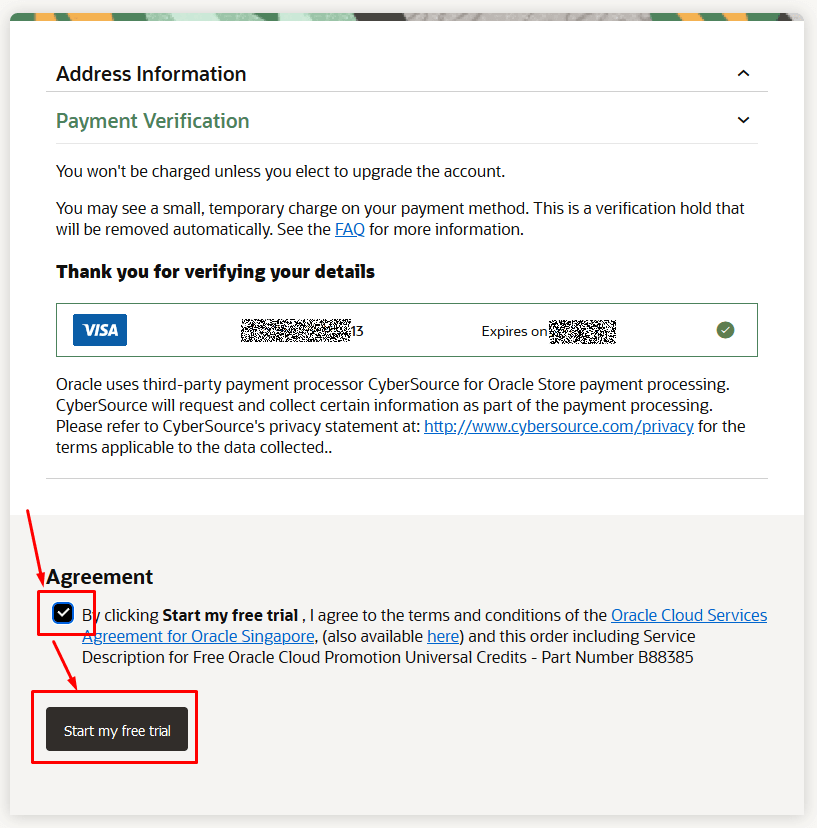 Let Oracle Prepare your Account
You have done your part already. Now let Oracle do their job. It will take about two to ten minutes to prepare the account.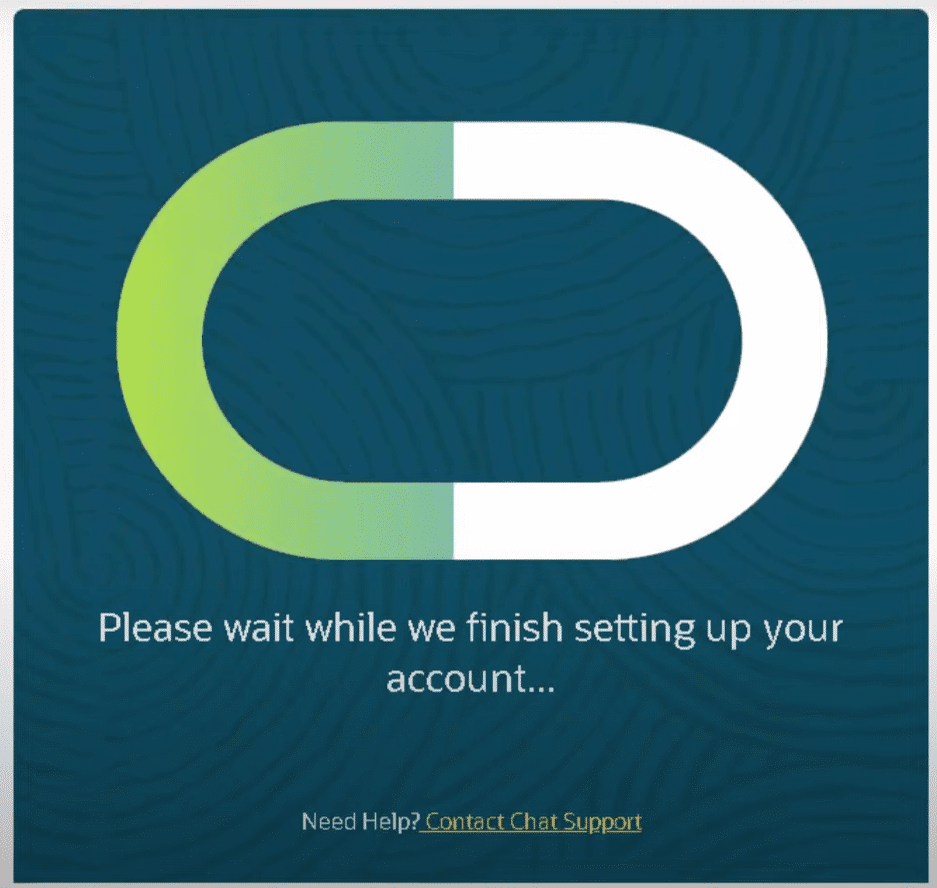 Once the account has been prepared, follow this Article to start with your Oracle Always Free Cloud Services and create a VPC server of 4 CPU Cores, 24GB of RAM, and 200GB of Storage.
Frequently Asked Questions About Using the Oracle Always Free Cloud Services